Knuckle Puck and Roam Australia tour diary;
Dear diary, just kidding. Long story short - my friend Jason called to see if I was available for a handful of dates in January to drive on this tour package. For those of you who don't know my background very well - I've been touring a bit here and there over the years (nowhere near as often as I'd like to I must admit), chasing my dreams. So I obviously jumped at the opportunity to get out on the road again. Plus the Seaway dudes had mentioned Knuckle Puck a handful of times when I was out with them a few months prior in August because they're tight with the boys in Knuckle Puck - the Seaway dudes were absolute legends so how could I say no? I mean, I'm sure my full time job wasn't overly stoked with some of the life choices I make which result in significant time off, but here I am! I figured I don't blog as much as I'd like to, so while something interesting is happening in my life I'd try document it in words the best I could along the way!
Monday, 8th of January, 2018;
Beep beep beep. That's the sound of my alarm going off at 5am. I didn't get much sleep, I didn't get enough sleep. I was awake super late last night, packing my bags last minute. Every single time. When will I learn? Rhetorical question, but we all know that the answer isn't any time soon. I did struggle to drag myself out of bed into the shower, but I had to do it. After a quick wash, I packed the last of the things I needed into my bag and made my way to the airport to fly to Melbourne. For some reason I couldn't check in online, and needless to say I went into panic mode when I also couldn't check myself in on the self serve machines (which I usually tend to avoid at all costs might I add). Apparently I didn't arrive early enough, I mean - I didn't miss my flight but I could have been there earlier. I think I slept the entire flight, which really is nowhere near as long as I just made that sound.
I arrived in Melbourne, what season is it? Well, I definitely would not have guessed summer. There was zero sun in sight, just an angry grey sky. I collected the rental van, and made my way to Jason's place. Just in time to run a whole bunch of errands. Returning rentals, collecting trailers, picking up other assorted bits and pieces we needed for the journey ahead, and you best believe we managed to squeeze in a delicious lunch at a bit of a 'hipster' hot spot. Fancy that in Melbourne, right? We managed to check into our accommodation before setting off to the airport to pick up 3/5 of Roam who were flying in prior to the other 2/5 (and to think I failed maths with those fraction skills). I'm not sure what happened, but I fell asleep in the car waiting for them to get out of customs (don't act surprised, I did mention that I didn't get enough sleep last night). I drove Sam, Matt, and Miles back to the accommodation. I didn't mention earlier, but I've never listened to the bands on this tour or spoken to any of them prior to meeting them.. Which is always a scary thought, maybe partially what prevented me from sleeping. After dropping them at the accommodation, I was back in the van with the trailer and I don't like to toot my own horn to often, but I ripped one of the best reverse jobs I think I've ever done in my life with a trailer attached. Headed straight back to the airport to collect the Knuckle Puck dudes who were landing a little later. I must admit, they were a loud crew after spending heaps of hours in transit from Chicago to Australia and probably being extremely jet lagged. After getting their bags in we went to source some dinner, I can't believe it's that time of the day already. John had his eyes and mind set on this place he found online, and boy I had never met the dude but he was so determined and convincing I rolled with him (most of the boys kind of went their own way - I'm not sure they trusted his judgement). BUT we ended up at a place called Vegie Bar in Fitzroy and I have zero regrets. Besides having a slightly overwhelming menu and making it nearly impossible to decide what I wanted to consume (I ended up deciding on the laksa) which for some reason is never my go to - but I had a super delicious meal.
We headed back to our accommodation, the walk was filled with plenty of banter and good vibes. I have a feeling this tour is going to be a good run. It's 11pm now and I'm about to head to bed to catch some z's but I even managed to squeeze in some chat with my designer, oh and continuing to advance the next tour I have coming up - so I managed to be productive with the spare time I had up my sleeve and I'm feeling great! Also, I'm sharing a room with Jason and last time I shared a room with Jason he snored heaps, so hopefully I can sleep through it, huh?
Tuesday, 9th of January, 2018;
Ring ring ring. Turns out Jason didn't keep me awake snoring after all. BUT he still did manage to wake me up slightly before my alarm was due to wake me up as he had left the hotel without the room key to get back in. Now, I'm not saying that's his fault, because the key was hiding in the pocket of my pants and I mean - if I was in that situation there's only so much looking I'd do, and it most definitely wouldn't include other peoples pockets. But I must admit I had a relatively good sleep, with the exception of slightly waking up to the sunlight for a second or ten because I was too silly to close the curtains before I went to sleep. In my defense I was exhausted.
After letting Jason back in, I decided I was going to kick off the day with a bit of movement. I Wandered into the CBD to pick up a few bits and pieces that I needed (okay, I probably didn't "need need" them, but I definitely wanted them, and I will admit it was only productive items. I'm trying to not waste as much money on things I don't use often and stick to the minimum. Plus it was a good way to start the day by stretching the legs and inhaling some fresh air! I knew I had a few things on the to do list for the day, so I rolled back to the accommodation to get the ball rolling. I needed to collect the merchandise for the tour along with a few other bits and pieces which chewed up a bit of time, and before I knew it we had to make our way to the venue for load in. The show itself was pretty smooth sailing, although a pedal board broke and I had to run that to a music shop in peak hour traffic. I had done a few shows at the venue in the past and it's a cool space, although there's no signal in the room so it's always a treat not being able to check social media and communicate with the world. After the show I had to collect and deliver pizzas from a place called Shawcross Pizza in Fitzroy. Now the last time I delivered pizza was back when I got mugged doing so. Although I knew this was slightly different - mainly because I knew who I was delivering to it was an odd little flash back to a shit job I had. But in saying that, a lot of income from that shit job went into the initial start up costs for Wrecked. Also, 22" pizzas are enormous, and delicious.
On that note, it's that time of the day where I lay down and close my eyes for hours. And hopefully I'll end up dreaming about pizza because it's on my mind!
Wednesday, 10th of January, 2018;
I woke up relatively early today, because I wanted to. Consuming coffee was definitely on the to do list, and I think Melbourne is pretty renowned for its quality of coffee. I did a little bit of quick research and found a spot walking distance from the hotel, Industry Beans. It was a really cool spot, where they actually roast their beans on site - so the front of the space was set up as a cafe, and towards the back was where the magic happens! I decided to treat myself, and picked up a Snickers ball thing. Now if you know me, you know how much I love Snickers - and if you don't know me, now you know I love Snickers. It was on the house because they forgot to bring it out, if I had of known it was on them maybe I would have ordered ten.. Next up was lunch, and I was keen to hit a vegan spot in the area called Smith & Deli (just around the corner from their other place Smith & Daughters). I always see people posting photos of this place so I was super keen to check it out, and although I asked a friend for a recommendation on what to get (because I just couldn't decide on what to get) - it did not disappoint and was super delicious. I went back to the hotel before heading to the venue. The venue was walking distance, and I have no idea why but we drove it which probably took us just as long if not longer than walking because of peak hour traffic in a super busy area. I had to return a bunch of the backline that we just didn't need to drive around the country. I can assure you that doing this in peak hour wasn't much fun, but I survived. Made my way back to the venue which was super hot and sweaty when it was full of kids. Like, uncomfortable hot and sweaty. Now for dinner, I went across the road to Spudbar which was so delicious and I felt so good afterwards as it was really healthy, but the portion was large and if you get a chance to go there I would strongly recommend. I have to drive to Adelaide tomorrow, and for some reason I can't sleep - so I can only imagine how fun the drive will be..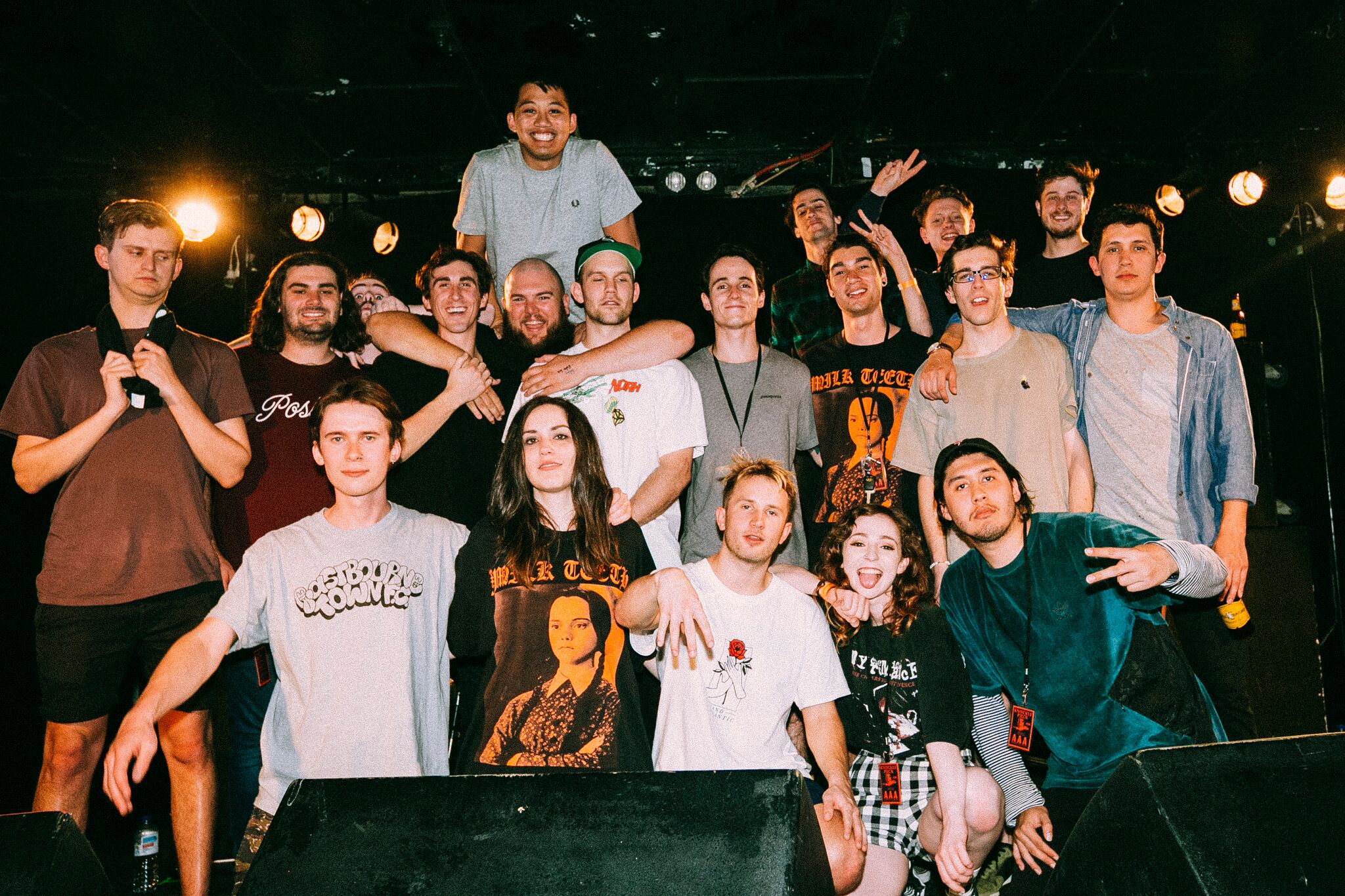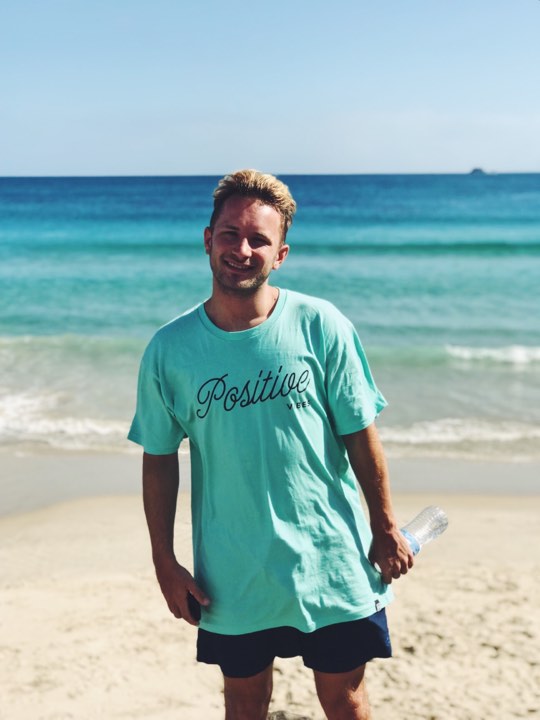 Photos in slideshow by Georgia Moloney - click to scroll through.
Thursday, 11th of January, 2018;
I woke up so early to smash through the drive this morning. Running on near empty because I most definitely did not catch enough sleep last night. We spent all day in the van driving, well 9 hours or whatever it took. The boys wanted coffee when we got into the city, but it was getting late and most places were closing up, but I found a spot (on the internet) where I hadn't been before and it was really good. We went to the venue and loaded in. I snuck home quickly to grab a couple of shirts for the boys to rock, and see my cat who I was missing a lot. While I was home, he thought it would be a good idea to vomit everywhere, I'm sure it must have been his way of telling me that he was missing me to. Back to the venue for the rest of the night. Fowlers is such a cool venue and ticks all the boxes for what I think a venue should be and they really look after the artists which is rad. I will admit, it was odd to sleep in a hotel like five minutes from my home. And I have to drive back to Melbourne (well slightly further than Melbourne) tomorrow. How exciting.
Friday, 12th of January, 2018;
Another early start, for another pretty average drive. Alex who sings in ROAM wants to see Parkway Drive play Unify as it's his birthday tomorrow. Now I'm definitely not complaining because if you seen a few blogs ago I mentioned a band called Architects latest single making my top 2017 tracks, and they were playing Unify. They played Adelaide a few nights earlier, and I had a ticket but had to sell it as I was away on this tour and missed the show. So I was super excited at the slight chance that I'd catch their set. I had my eyes on the prize so absolutely smashed through the drive. We got into Gippsland where the festival was. We dropped our stuff at the caravan park nearby where we were staying the night, and headed to the festival with plenty of time up our sleeves to catch Architects and Parkway Drive. Maybe not plenty of time, but we made it. It was raining and maybe thongs weren't the best footwear choice, but I only had one pair of shoes with me and I most definitely did not want them to get soaking wet and destroyed. Architects were sick, although I still wish I seen them in a smaller more intimate venue oppose to an outdoor festival setting - the vibe for me personally would've been a lot better. Parkway Drive also smashed it, and we threw Alex in their rubber dingy to crowd surf, he was so happy! We got back to the caravan park and I realised my laptop wasn't in the van, I thought maybe the boys had accidentally grabbed it with their stuff but sadly that wasn't the case..
Saturday, 13th of January, 2018;
We were back at the festival again today as both Knuckle Puck and ROAM were playing the festival today. We arrived early as the bands had a handful of media booked in for the day - interviews, meet and greets, etc. We had a little bit of down time before that all kicked off so just chilled out before unloading the trailer and loading in. The boys went off for their interviews which was all smooth sailing, and then we quickly loaded in. Not the easiest task when the platform to load on was above head height, but we're all strong and have plenty of muscles - apparently. Next up was the meet and greet - which I find always end up being weird and awkward. We had access to the green room after this, which meant we had a quiet spot to relax and what not! I must admit, I didn't watch heaps of acts besides the boys. Hanging back stage on a festival of this scale was a cool experience and something I hadn't really done before. But as I said earlier, watching bands at festival shows isn't much my thing. I did see someone drink a beer out of a condom which I hope never happens again. Also heard way too many people chanting "shoey" over the course of the two days - please stop doing this, it sucks! We have to drive to Sydney tomorrow which is another big one.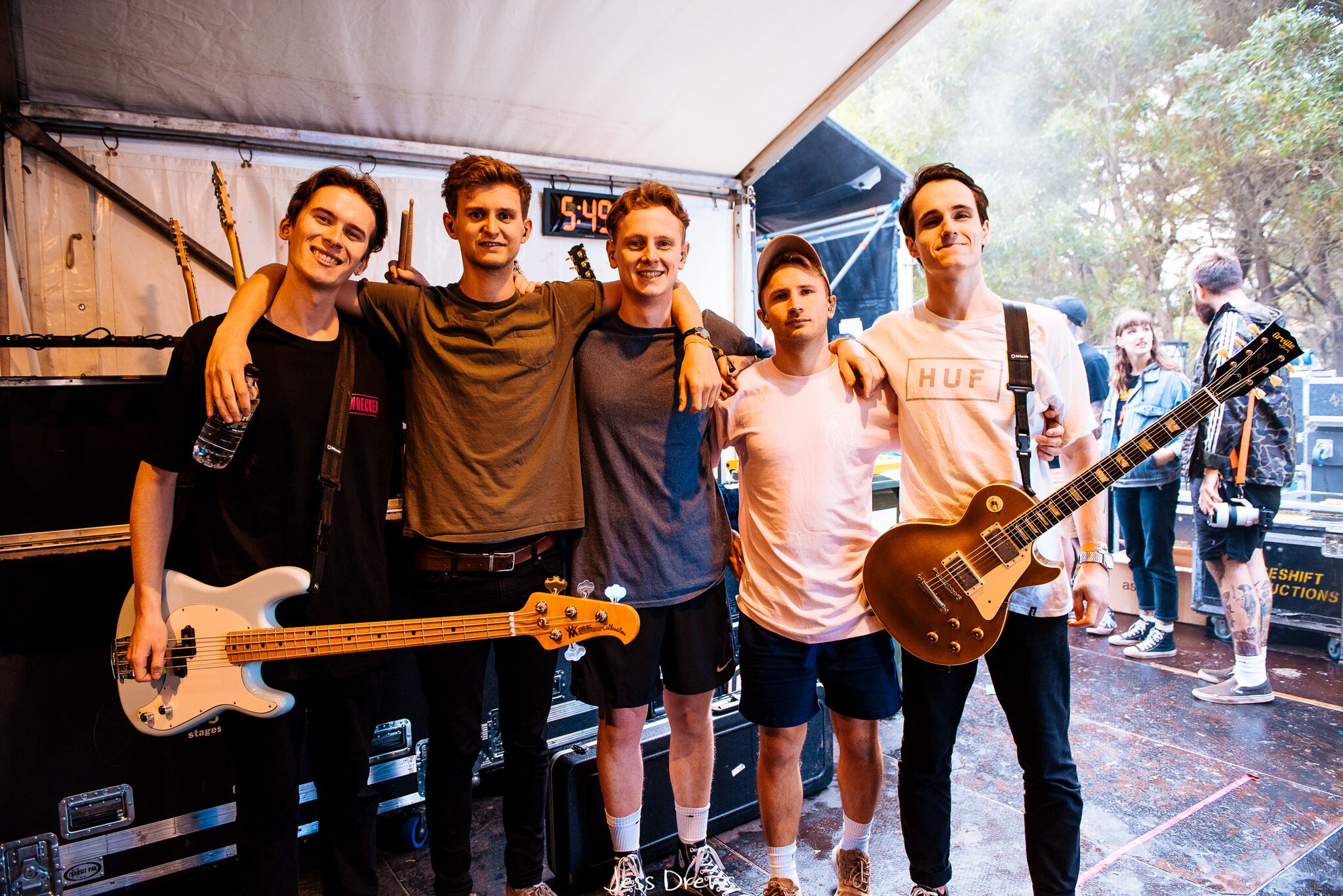 Photos in slideshow by Georgia Moloney - click to scroll through.
Sunday, 14th of January, 2018;
A big drive can only mean one thing - an early start. You better believe we were in the van on our way at 5am while it was still dark. I watched the sun rise which is always a treat and rather beautiful - something I don't do often enough. I was blasting a handful of podcasts on the drive to keep me occupied and alive. I've only just got into the whole podcast thing so I don't know many but I am really enjoying it. We ended up in a town in the middle of nowhere (surprise surprise - wouldn't expect that driving across the country right?), but we were getting low on fuel and there was one petrol station in the town, and every bowser was out of action. I ran out of fuel last August when I was out with Seaway, it was the first time that has ever happened to me and I most definitely did not want to make a habit of that. Luckily, we made it to the next town on empty which was about an hour away and kept moving forwards! We got to Sydney and went straight to the venue. I needed to go to the supermarket to grab a bunch of stuff for the rider, after spending all day behind the steering wheel the last thing I wanted to do was drive so I caught an Uber - even though the shopping centre was super close. The venue tonight was super cool, and the same venue Seaway played when they were out. It has a really good space in terms of stage and backstage. The show itself was pretty big in terms of attendance and a cool vibe. The hotel was downtown in Sydney and near impossible to land a park for the van, but we found an undercover carpark nearby and settled for that. We walked back to the hotel and tried to catch some much needed sleep while the opportunity was there, plus we only had to drive to Newcastle the following day which isn't too far.
Monday, 15th of January, 2018;
I had a really really good sleep last night, woke up feeling super recharged. And had a call from someone who had my laptop which was great news! We all had a wash and checked out of the hotel. Last night we just ate what was on the rider for dinner, which wasn't a meal as such so we were all pretty hungry. We managed to hit a spot near the carpark called Chambers Fine Coffee. I had eggs benedict but with mushroom and spinach oppose to ham and it was delicious. The Knuckle Puck dudes went to see the Opera House and Harbour Bridge but the ROAM dudes did that when they were last out so figured it'd be much the same. Instead we made our way to Newcastle and our pal has a hook up at Holey Moley. So we went there to kill some time. We arrived ready to mini golf (well I was), as we were about to tee off, the lady came over and told us we had a bar tab! We all got a stack of drinks and food which we weren't expecting and it was really cool! I don't even know how to explain how good Holey Moley is, I've been a couple of times and every time I have stacks of fun! It's like mini golf, but on drugs - and I feel a lot of their courses are based on luck oppose to skill. If you haven't been before I can assure you that it's well worth it. The boys had a lot of fun, and it was cool to have a little bit of time that wasn't spent at a venue, hotel, or in the van. We made our way to the venue and settled in for another night, another show! Tomorrow we drive to Brisbane for the last show which is another relatively long drive. I spent stacks of time in the green room relaxing tonight!
Photos in slideshow by Georgia Moloney - click to scroll through.
Tuesday, 16th of January, 2018;
We had to wake up super early to tackle the last long drive, well last long drive collectively. I struggled to get out of bed and the boys were all waiting for me at the van when I got down. I think most of them managed to sleep (well nap at the bare minimum) for a lot of the drive. I was jealous as I wish I could sleep but I was sat behind the steering wheel for something around the twelve hour mark.. Another long drive, another bunch of podcasts. We landed in Brisbane not long before the show, but had enough time to sneak a quick dip in the pool at the hotel, which was very refreshing after being stuck in the van all day. I honestly wish we could have spent the afternoon relaxing in the pool, but that would've been too good to be true. So off to the venue we headed. The weather was very beautiful and one of the only days this tour where there was lots of sunshine. Finding parking is always an average time, unless the venues have parking available which doesn't seem to happen as often as it should. After we loaded in we went for a walk to a place called Death Before Decaf which is a 24/7 (crazy) coffee spot! This was the first time I had checked it out despite seeing it around the internet previously. I really needed caffeine by this stage. I had a little nap on the couch back at the venue before the show kicked off. My good friend Ben who is probably mostly known for his photo and film work (he goes by Third Eye Visuals) came out to the show so I hung out with him all night which was great. Ben is one of the nicest most genuine people I've met and I don't see him often enough although we do talk almost every day. After the show we loaded out for the last time on this tour. All the guys were planning on going out, but hey - I didn't think much would be open at 1am on a Wednesday morning so I went to catch some sleep knowing I had to make my way to Melbourne solo.
Wednesday, 17th of January, 2018;
Jason dropped the Knuckle Puck guys back at the airport super early as they were flying out to Japan to start the next leg of touring they had booked. ROAM decided to hit the swimming pool, and although I should have been on the road as soon as possible - I couldn't turn down a dip. Especially when majority of the time we had spent at the hotels on this run was literally just to sleep. Silly Jesse didn't put sunscreen on which would become a problem for future Jesse. Needless to say after two hours in the pool I got very very sunburned, whoops. It was time to get on the road, and start the drive to Melbourne. We packed the backline into the van oppose to the trailer so it'd drive a little better and I dropped Alex and Alex from ROAM in Byron Bay - they were staying in Australia for an extra couple of days and living the dream. Unlike myself who had an 1,800km solo drive to look forward to. I made it to Canberra in one hit only stopping for fuel. At 8am and slept for majority of the day before finishing the last stretch of the drive and returning everything I needed to return before my flight home.
Conclusion;
This was a really cool tour to be out on. Knuckle Puck, ROAM, and Stand Atlantic are three bands that are made up of really great people. Although I went in blindfolded and didn't know anyone previously, I made a bunch of new cool friends from all over the place. I can't wait to cross paths with these people again in the future, and if their music is something you do like please make sure you support them in anyway you can. I wish we had more down time on this tour to do cool shit, and I also wish it went for longer. I'd much rather be out on the road exploring the country than sat at home getting ready to go back to work. I'm already missing the crew that were out on this tour!
Another lap around the country, another bunch of new pals from all over the place, another handful of great memories, and another little piece of plastic to remind me of it all. It's been real.